Rose City Pressure Washing LLC is an aggressive advocate for LOW COST ECO-FRIENDLY Solutions. We use only Safe, State-of-the-Art techniques which will bring back that "Like New" appearance you can be proud of. Our equipment can produce cleaning pressure in Hot or Cold Water at 500PSI – 4500 PSI. This type of cleaning practice allows us the flexibility to effectively clean your surfaces while protecting them from un-wanted damage.
Rose City Pressure Washing, LLC also specializes in Applying a variety of Water Sealer Protection finishes.Ask our representatives about our 2 YEAR Guarantee.
Something You Should Know About Some of Those Concrete "Stains"
Only 30% of concrete stains are produced by automobile fluids. A major 70 % of Driveway & Concrete Stains is caused by fungus, molds and mildew! If you walk onto a fungus covered surface, with or without shoes, you will track fungus spores into your house, car & office!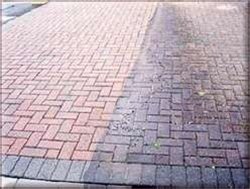 Your contact with fungi spores can make you, your family, pets and coworkers sick!  Protect your loved ones today by scheduling a concrete cleaning service today.
Rose City Pressure Washing provides the following driveway, concrete, walkway and patio cleaning & restoration services in the Portland area:
Driveway Cleaning
Walkway Cleaning
Sidewalk Cleaning
Concrete Patio Cleaning
Driveway Staining
Walkway & Sidewalk Staining