Who Wants To Clean The Trash Enclosure?
Date posted: February 16, 2012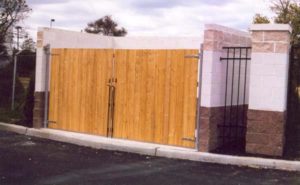 Let's face it. The trash enclosures of many commercial buildings or properties are well….only fit for trash. Trash enclosures are usually the nastiest part of any commercial property. People typically only endure the horrors of the enclosure just long enough to toss whatever garbage they need to dispose of and run away….sometimes screaming! But is it necessary to keep up a trash enclosure? Why bother cleaning it?
There are many reasons to have your trash enclosure professionally cleaned. First is that it is a part of your commercial property and thus is associated with your business. Since it is often outdoors, trash enclosures, are usually visible to the public. An extremely grimy enclosure may not help promote the overall clean and professional image you want to portray. Secondly, you clean the inside of your building to avoid pests, an overly nasty trash enclosure may invite those pests anyway! Imagine if a customer came to your building as saw a couple of rats running behind your building, what would you do if you were that customer?
Cleaning a trash enclosure is something that should be done regularly. Not only is it sanitary but if you have trash compaction equipment it can keep it in good working order. Fortunately Rose City Pressure Washing has you covered. Our convenient trash enclosure and equipment cleaning service is just a phone call away. Let our professionals do the dirty work! Call Rose City Pressure Washing today at (503) 410-1350.
Our trash enclosure and equipment service includes:
Self Contained Compactors
Stationary Compactors
Containers & Carts
PreCrushers
High Rise Compactors
Trash Room Compactors and Balers
Hoppers
Cart Lifters
Tow Vehicles
Odor Control Units
Vertical Balers
Horizontal Balers
Auto-Tie Balers
Two-Ram Balers
Written By: Rose City Pressure Washing