Graffiti Removal
Date posted: June 9, 2012
Graffiti is described as an artistic expression or decoration that is inscribed on either rocks or walls.  Sadly, this artistic expression often plagues many of the walls of our businesses and streets, regardless whether you live in the metropolitan areas, suburbs, or rural areas.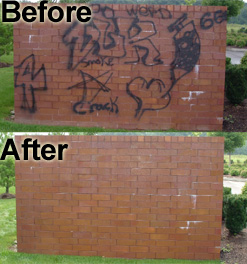 There are many communities that actively hire professional pressure washers to remove graffiti from public places. When it comes to removing graffiti, nothing can match the cleaning power of pressure washing!
Safe And Simple Solution
In most situations, chemicals are simply not needed. The use of steam pressure cleaning, for example, may use water that is super-heated, but at a low pressure setting. This is often enough to clean many hard surfaces. Harsh chemicals make the work more expensive; in addition, they add to the pollution of the environment, especially the groundwater. Steam pressure cleaning can also be used in the removal of other materials, such as grease, chewing gum, bird droppings, oil stains, and more.
Avoid Do-It-Yourself Graffiti Removal Kits
There are many do-it-yourself graffiti removal products on the market but should these be used? The general answer is no and there are many reasons for this. Chief among those reasons is that these kits are often pure chemical; these chemicals if applied to the wrong surface can create something called "graffiti ghosts". These are visible outlines of the graffiti that are "burned" into surface permanently. At Rose City Pressure Washing we have the tools and techniques to remove graffiti from many types of services including hard to clean textures like limestone, sandstone, brick, plastic signage, and vehicle exteriors.
Protect Your Investment, Call Rose City Pressure Washing!
At Rose City Pressure Washing we can take care of your graffiti problem quickly and effectively so that you can get back to work without worry. For anyone concerned with saving time and money, there is no alternative to hiring a professional. If you are in the Portland, OR area and need help removing graffiti call or contact Rose City Pressure Washing Today. (503) 410-1350.
Rose City Pressure Washing also provides the following services in the Portland, OR area:
Awning Cleaning
Warehouse Cleaning
Heavy Equipment Cleaning
Store Front Cleaning
Commercial Building Pressure Washing
Graffiti Removal
Construction Clean-up , Streets, Parking lots, Spills, EPA Clean-up
Hard to Clean
Gutter Cleaning and De-icing
Written By: Rose City Pressure Washing