Beware the 'Jack-of-all-trades'
Perhaps you have seen the advertisements or even been approached by a company claiming to be able to care for all of your residential community maintenance needs (from landscaping to pool cleaning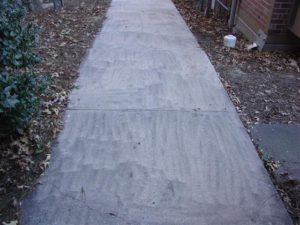 to pressure washing). Their claim is that by combining all of these services in one company you "save money". This article is written as a warning! Buyer Beware! Many commercial property management companies have learned that the "all in one" property maintenance provided by those who also claim to offer pressure washing as one of their many services, is not what it seems to be.  Often these companies subcontract the pressure washing out to a substandard "pressure washing" company who owns equipment any consumer can purchase at Home Depot for a couple hundred dollars. This inferior cold water equipment, combined with lack of professional experience, almost always leads to irreversible damage to the property. These damages can cause tens of thousands of dollars in repair costs. More than a few property managers learned, unfortunately, that these subpar subcontractors do not actually carry the necessary liability and/or workman's compensation insurance. Thus the damage costs must then be absorbed by the property management companies. Ouch!
Unlike so many "pressure washing companies" who perform substandard services and give the entire industry a bad reputation, Rose City Pressure Washing, LLC continues to set the industry standard for quality in workmanship. We clean your property by taking the best equipment money can buy and putting it in the hands of highly trained, experienced, full time pressure washing experts.
Rose City Pressure Washing, LLC is Portland's premier property restoration contractor, serving all of Portland's commercial and industrial and residential community markets for over 20 years. When choosing a contractor to clean your apartment community or homeowners association community go with the experience and expertise that you can trust. Go with Rose City Pressure Washing, LLC.
Rose City Pressure Washing, LLC also provides the following pressure washing services: