Give Your Business A "Curb Appeal" Makeover
One of the best ways to attract walk-in traffic is to increase the "curb appeal" of your building. This generally involves keeping the building, driveways, sidewalks, entryways and parking lots clean and inviting looking.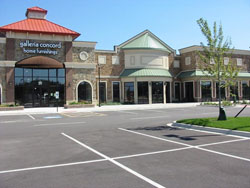 As a business owner, you know that is easier said than done. Most business owners in the Portland OR area recognize the value of pressure washing (or power washing) to maintain the appearance of their business.  If you have never considered pressure washing before, here are 3 reasons that you should:
Pressure washing can add to the lifespan of your building
Dirt, mold and grime do a lot more than just look bad. If left alone, they will cause the premature rotting and decay of building materials. This in turns leads to costly renovations and repairs. Having your buildings' exterior regularly pressure washed eliminates the buildup of these contaminants and can lengthen the lifespan of your building.
Mold and allergen reduction
Anywhere there is moisture mold and mildew can become a problem. When mold and mildew grow on commercial buildings they can become a health hazard to employees and customers alike. A regular pressure washing program can keep health hazards of this nature to a minimum.
Comprehensive cleaning
Trying to clean your building or your parking lot on your own is a tall order. Pressure washing is an efficient way to have these areas cleaned. With a professional pressure washer like Rose City Pressure Washing, your building, sidewalk, driveway and parking lot can all be pressure cleaned in the same day (or night if your prefer). Literally overnight your entire business could have a dramatically improved appearance that is sure to get noticed!
Portland's Best Pressure Washing
Keeping your commercial or retail building or store front clean and inviting is important to business. It could possibly determine whether a customer becomes a repeat customer.  Why take any chance? Rose City Pressure Washing, LLC has been providing professional, cost-effective, eco-friendly solutions for business owners for over 20 years.  We can clean your building or store front during off-peak hours, leaving a fresh, clean building that will result in more foot traffic. Call or contact us today for your free estimate! (503) 410-1350.
Rose City Pressure Washing also provides the following pressure washing services:
Awning Cleaning
Warehouse Cleaning
Heavy Equipment Cleaning
Store Front Cleaning
Commercial Building Pressure Washing
Graffiti Removal
Construction Clean-up , Streets, Parking lots, Spills, EPA Clean-up
Hard to Clean
Gutter Cleaning and De-icing