Commercial Pressure Washing In Portland
Date posted: April 28, 2012
Ask any customer of any business and they will tell you that the cleanliness of an establishment matters to them. It determines whether or not the customer will return, or even enter the premises in the first place. For commercial businesses in the Portland area there may be no more important issue than providing clean surroundings, apart from the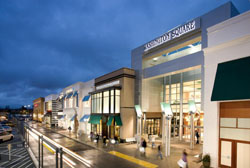 interior. Hiring an experienced commercial pressure washing company is an affordable way to keep your commercial property looking good at all times.
Making Sure The Job Is Done Right
When you hire Rose City Pressure Washing LLC to clean your commercial property or place of business you can be sure that the job is done to your satisfaction. Our trained professionals have over 20 years of experience cleaning commercial property.  Our experience means that we know how much pressure or what special techniques might be needed to clean the various types of materials and surfaces found on commercial properties. Rose City Pressure Washing knows how to clean your property in the safest, most efficient manner possible without interruption to your customers, employees or tenants.  We even offer night service!
Leave It To Us
Sometimes you can save money by doing things yourself. There are, however, times when it is best to leave a job in the hands of trained professionals. Rose City Pressure Washing is simply the best option to clean your commercial property. Our years of experience combined with the best equipment and cleaners in the business equate to your business looking its best, every time!  Experience professional service at its best!
Contact Rose City Pressure Washing today for your fast and free estimate! (503) 410-1350.
Rose City Pressure Washing also provides the following pressure washing services:
Construction Clean-up , Streets, Parking lots, Spills, EPA Clean-up
Written By: Rose City Pressure Washing