Awning Cleaning – Maintaining A Warm Welcome
When you look at pictures of old time storefronts it seems as if they all had awnings, and for good reason. Awnings have a way of transforming a regular storefront into a warm and inviting place, something about their old world charm that really draws people. But there is also function that goes along with the form of your awning.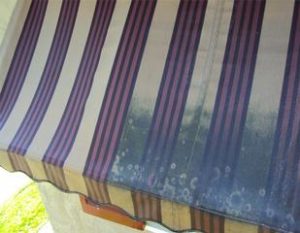 Awnings are a stylish way to cut out some of that blazing sun from heating up your store and it also can provide a bit of shelter for those exiting your store while they wait for a ride, especially if it is raining. But because awnings are outside and exposed to the elements they are going to get dirty, possibly even stained. If this happens your awnings can become a real eyesore.
Power Washing Your Awning
Without a doubt the best way to restore dirty awnings is to have them power washed. Awning cleaning is a job best left to professional pressure washers as awnings have special requirements. To start with, you can't just lather up any old detergent and clean your awnings. Awnings can be made out of many different materials that react differently to detergents and chemicals. If you clean your awnings with the wrong detergent you will ruin them. A company that provides professional awning cleaning will know exactly what detergents to use with what materials and know exactly how much pressure is too much when it comes to the power washing. Using water at too high a pressure will destroy your awnings. Finally a professional awning cleaner will use a sealer to prevent sun damage and other stains from occurring.
Awning Cleaning Portland OR
Rose City Pressure Washing LLC is Portland's awning cleaning experts. We have been cleaning awnings for over 20 years and are proud to use only the latest environmentally friendly cleaning solutions. Our awning cleaning service will not only restore that vibrant, clean appearance, but also help ensure the longevity of your awnings. Call or contact us today to request your free awning cleaning estimate! (503) 410-1350.
Portland OR Awning Cleaning Services We Offer:
Store front awning cleaning
Retail awning cleaning
Strip Mall awning cleaning
Drive Thru  awning cleaning
Restaurant Patio awning cleaning